Message from Principal
Namaste and Welcome
Lumbini Adarsha Degree College is a renowned leading education institution with multi facilities such as science, education, arts and management. It was established in 2056 (1999), in the middle part of Nepal (kawasoti 8, nawalparasi) to produce the excellent academic manpower as well as to support nation building from +2 level to master degree. Now a days most of the students who passed from this college have been working in various sectors. In the glorious 22 years , the college has succeeded to established itself as a reputed institution in the educational arena of Nepal.
No doubt, it's our pride to embrace the contribution and the service of this institution as important as the milestone for the public empowerment and awareness in the society. Beside we'd like to express our sincere to gratitude to all the gentlemen who have helped either directly or indirectly for the upliftment of the college and well wishers as well as honorable parents for bringing to he present condition with glorious height of education.

Baburam Rana Magar
Principal
Lumbini has 21+ years of excellence in its academic result and exceptional career exposure, including Nationally and internationally trained faculty members with a higher degree of exposure and passion for the academic profession.
Lumbini has a Peaceful academic environment in the eastern part of Kawasoti 8, with well-equipped and facilitated infrastructure.
 It has a regular practical classes, with well-equipped labs for Science, IT and hotel management.
From the Chairperson's Desk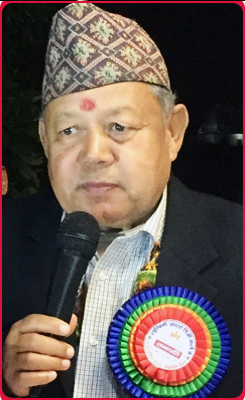 Namaste and welcome to all.
I would like to stress on our mission statement of producing young minds as the pillars of advancement of a nation.This college was established in 2056 B.S.,obtaining the affiliation from Purbanchal University and the then Higher Secondary Education Board.It is full of worth to mention that our dream of establishing the academic institution of this caliber wouldn't have been possible without the devotion,dedication and assistance of thousands of helping hands, service-oriented individuals,intellectuals and local people,whom we take as the true ornaments of this college. The effort applied then, has now become the strong force to create the environment to disseminate the education as per the need of the present time and world.
Lumbini Adarsha Degree College has now become the true epitome of quality education and it is now set as the centre of faith of all,specially for women,indigenous people,marginalized ,under privileged and differently able people,which has created its own identity,establishing itself as an Academic Asset of the nation. Finally,I hope,this college will be able to reach new academic heights,quenching the educational thirst of many and will be able to generate well-equipped human resources, constructing democratic and well cultured society.
Thank you

Mahendra Dhowj GC
NOTICES
Click here for details: https://www.puexam.edu.np/public/exam_schedule/bed_iii_r_1641724867.pdf For more please visit : https://www.puexam.edu.np

!! नव वर्ष २०७४ को हार्दिक शुभकामना !! सादर – निमन्त्रणा लुम्बिनी आदर्श डिग्री कलेजको १७ औं वार्षिकोत्सव तथा अभिभावक दिवस विविध सांस्कृतिक कार्यक्रम साथ भव्यतापूर्वक […]